To hide SurveyMethods branding from all surveys in your account, first log in to your SurveyMethods account and then navigate to My Account by hovering over the icon at the top right and choosing My Account.
Click on the White Labeling tab and then look for the section called "Brand Settings".
Check the box next to "Hide the SurveyMethods branding in all the surveys of this account." This setting will enable white-labeling in all of your surveys.
Hide SurveyMethods Branding in a Single Survey
You can also show or hide SurveyMethods branding in a specific survey as part of the launch process or from the Survey Settings area. Once you click the launch button, below the launch method you will see a section on Brand Settings, with a checkbox to remove SurveyMethods branding in the survey:
You will also have an option to set up a custom or short URL, which we will cover in a separate help article.
If a survey has already been launched, you can adjust the White Labeling settings within Survey Settings. Find the survey on the My Surveys page and click the gear icon for the survey you wish to edit:
Under General Properties you will see the White Labeling option:
If White Labeling is enabled, the SurveyMethods logo or name will be hidden in the following areas: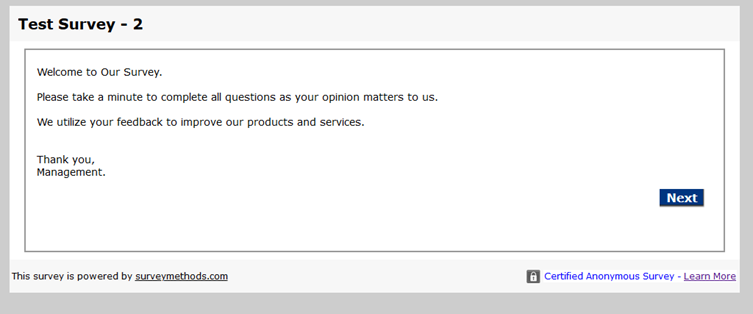 Certified Anonymous Survey seal: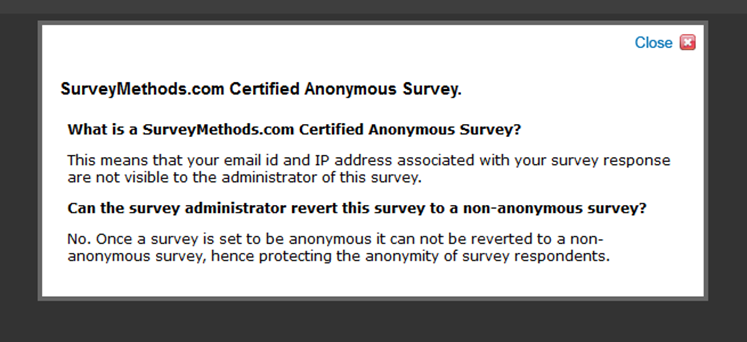 Event email notifications (for event management surveys) – currently includes the SurveyMethods logo and "Powered by SurveyMethods.com".
Emailed copies of survey responses (to both the survey owner and respondents):

Who Can Use this Feature?
White Labeling is only available for users on the Professional and Enterprise tiers.