If you would like to work off of a survey you previously created, you can create a copy of the existing survey and then modify that copy for further use. All of your survey questions, answer choices, page logic, themes, and other survey settings are carried over to the copy. Note, however, that the system DOES NOT copy any responses or respondent data of the original survey.
To copy and modify one of your existing surveys, follow the steps below:
Log in to your SurveyMethods account.
Click the Create New Survey button on the My Surveys page, or hover over the Surveys menu on the navigation bar and choose "+ Create a Survey".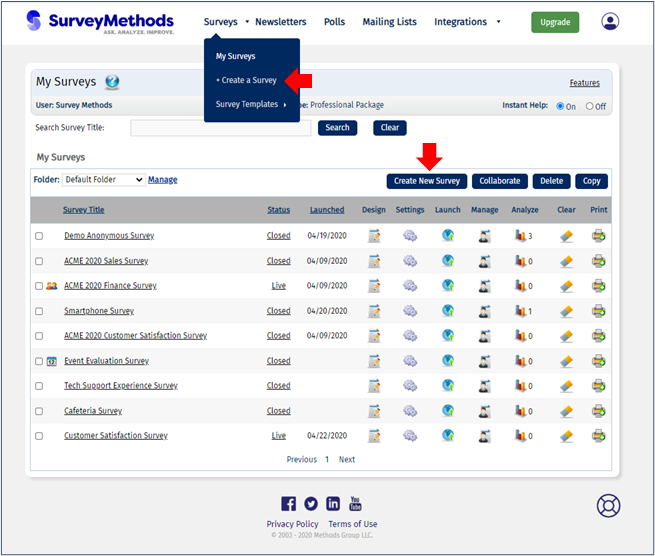 On the first page of the Create New Survey wizard, select "Copy and modify one of my surveys", then choose the survey you wish to copy from the dropdown menu, and click Create Survey.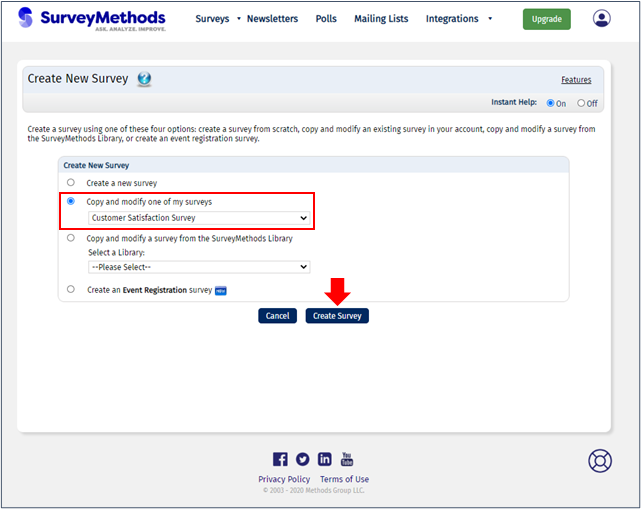 On the next page you'll enter the title for your survey, select one of the language packs, and choose whether or not your survey is anonymous. For more information on anonymous surveys, read our Anonymous Surveys help article.
When you're satisfied with the survey configuration, click Copy.
The survey will be copied with your new survey title and displayed on your My Surveys page. You can make changes to the copied survey by clicking on the Design icon.