With SurveyMethods, you can share your real-time survey results online. You can share your survey results with coworkers, customers, clients, stakeholders, or anyone else you wish to share them with.
You can choose whether to share the results summary report only or the summary and the individual results reports, or you can share any of your Quick Report Generator reports. You can set permissions such as whether or not others can filter the results or export to Excel or Word.
To publish the individual results or results summary report:
From the My Surveys page, click on the Analyze icon () for the survey whose results you wish to publish.
Click on either the Individual Results report link or the Results Summary report link.
Click the Publish Results link at the top right.
Configure the settings and click Save or Save and Exit. You can also use the button to email the link or copy the link and paste it into an email to share.
Publish Results Settings
Security Settings
If you wish to require a password to access the survey results, check the "Require a password…" box and enter the desired password. You will then need to share this password with recipients so they can access the results.
You can also choose whether or not to enable Secure Socket Layer (SSL) security on your results. We generally recommend always using SSL where available.
General Settings
If checked, Allow Criteria Analysis allows people who have access to your results to filter those results, using responses to questions, the date/time the survey was taken, or custom field values (if custom fields are populated).
Allow printing of results to PDF allows users to export the results to a PDF document, and allow printing to Word allows them to export the report to a Word document. Allow emailing PDF of results, if checked, will allow anyone with access to your results to email a copy of the reports in PDF format to anyone else. Finally if you allow export to Excel, users will be able to export the complete survey data to an excel file.
Note: If you choose publish summarized results only but then allow export to Excel, individuals who have access to the report will be able to export and view the individual reports.
Uusing a Custom URL
Survey results can be published on a custom URL to use a private domain/subdomain and account identifier. You must configure domains and account identifiers in the My Account section of the application for use in published results. View our article on using Custom Survey Links for more information on configuring domains and account identifiers.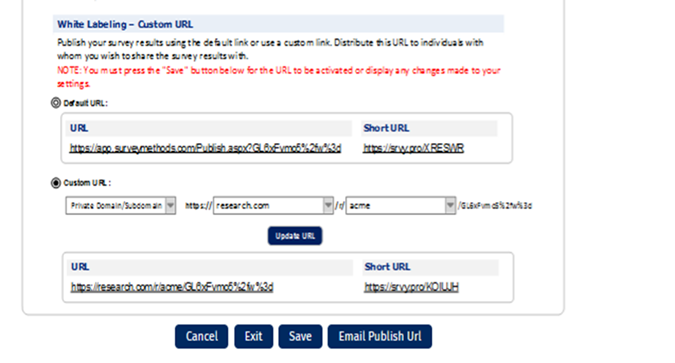 You can only use one custom link for publishing survey results at a time (unlike with survey URLs, where you can have multiple different URLs per survey). You can update the publish survey results as many times as needed but previous configurations will no longer be valid and users will see a Page Not Found result.
If using a private domain, please ensure the DNS entry is properly configured. If the DNS configuration is not active, users will not reach the survey results page.
Who Can Use This Feature?
This feature is available for SurveyMethods Professional and Enterprise users.