If you have already created a survey you can easily add an event to the survey so that your respondents can RSVP and find out more information about your event.
As an example, let's say we have built a survey to gather feedback from our sales team on their organization and leadership. At the end of the survey we want to gauge interest in attending an all-hands meeting for the company on a specified date and time. We can do this by adding an event question to the existing survey.
First, log in to your SurveyMethods account, find the survey you wish to edit from the My Surveys page, and click the design icon (
) on that row:
Navigate to the page in your survey where you want the event question added and click Insert New Question. In our case, we've added a new page and named it "Event Feedback" that will include the event question.
You will then choose which question type to insert. Under "Other", choose "Calendar Event for Event Registration":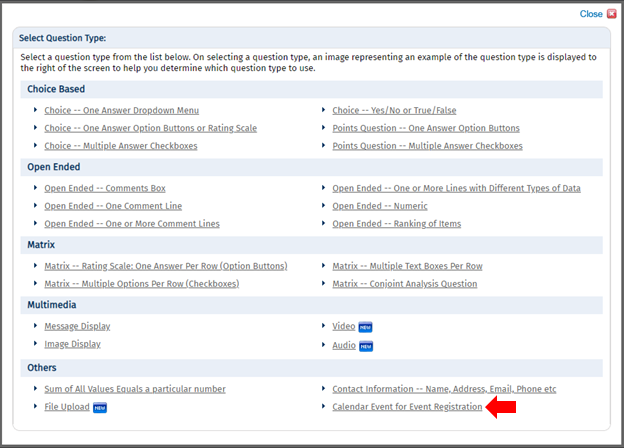 Next you will be taken through a 5-step wizard to create your event:
View helpful information about Event Registration surveys.
Input your event details.
In the "Location" field, you can start entering an address and the system will suggest addresses and populate details from Google. This will also ensure that your address shows up in the correct location on Google Maps.
At the bottom of the page you can choose whether or not to enable a waitlist, set an attendee limit, customize the event full and add to waitlist messages, and finally choose whether or not to send a confirmation email to respondents who are attending. In our example, the event question is informational only so we do not have an attendee limit and are not sending confirmation emails.
Note that you can insert custom fields (such as the respondent's name) into the RSVP (response) Question and the event full messages if you are deploying with an advanced email list. For more information on custom fields, see our help article on Using Custom Fields in SurveyMethods.
Since we chose not to send confirmation emails we do not need to complete the rest of the event registration wizard and the event will be added to our survey.
For complete information on Event Registration surveys, including steps 3 through 5 of the wizard, visit our article Manage Your Event Using SurveyMethods' Event Registration Surveys